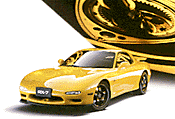 Cars for sale



If you're out to buy a rotary, here's some nice ones for sale.


Rotaries 4 sale - Exciting offers.


Meets



Are you up for grabs, about going to meets with your rotary?


Meets - Cool runnings, man.


About the club



To all RX enthusiasts around the world

We are presently trying to form a club for RX enthusists in Denmark.


Until further notice, we are trying to gather as much contacts as possible. (places and people)

Our contacts at the moment include:
3 Rotor - A registry for RX enthusiasts in Australia. By the hand of Lance Warren, that Owns a 20B powered Cosmo HB with 500HP, and a real nice Cosmo JC.
Rotary Drive Club Europe - Nice site, mostly in German. By Sascha Horstkotte, that has a real nice FC turbo convertible.
American spare parts dealers.
American performance parts dealers.
We are working on getting all our contacts and pictures of all our cars on the net, and as you can see we are getting there, if slowly.

One of our main objectives is to get to as many international meets as possible, as well as invite our RX contacts from abroad to our arrangements.

Japan meet - We went to a Japan Sports car meet in May '98

If you want to know more about the club or our contacts, you are more than welcome to contact us:
Jeppe Marckmann:
the_rx7_guy@hotmail.com
John Gantzhorn:
rx7_freak@hotmail.com
Back - Back to the main page