The

is the worlds greatest Car!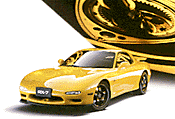 A bold statement, but I'm certain it's true!
Due to this fact I'm the proud owner of no less than 3 Rx-7's and one Rx-5

This is one of my RX-7s just after I bought it in January.

This is another of my RX-7s. It has a MAJOR dent on the right side, so Iím going to scrap it eventually.

My third car which with some help from the black one will become an awesome circuit racer.


It looks neat, but the engine was toast when I bought it. The front chamber is dead.
It's not excatly free from rust!!!
Me working. It must have been a real fast film to catch that.
John and I conferring about how the project commences.
John has been a REAL great help on this project.
It'll take some time yet, but I'll keep adding pix as the project commences, so check back once in a while.

My newest investment is the RX-5.
It had a small fire in the cabin, but nothing too serious happened.
The price was right, and I was tempted - so I bought it.

Unfortunintely I haven't got many pix of it yet - but it'll come.

Visitors since 980824